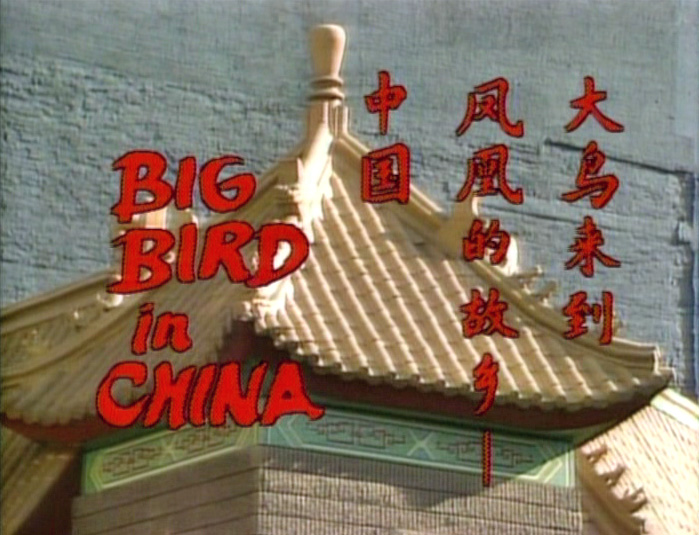 Sesame Street Goes To China was the 1996 tape framing material of the 1983 TV special Big Bird in China aired on NBC May 29, 1983. May 19, 1996 @ 9:30 AM
The story starts in New York City's Chinatown, where Big Bird peeks at an old scroll with a picture of a beautiful phoenix on it. The shopkeeper explains that the phoenix is magical and lives in China. To find the phoenix, Big Bird will first have to find the four places pictured on the scroll. Big Bird thinks, "Well, what a good thing it would be if a great big American bird went to meet that beautiful Chinese bird! I mean, she could tell me everything about China, and then I could come home and tell everybody here!" He sets out with Barkley on a boat and makes it to China. Highlights include Chinese landmarks like the Great Wall of China and Beijing, Big Bird learning the "little duckling dance", and a song to teach Chinese words. A character called the Monkey King helps Big Bird and Xiao Fu on their quest. Meanwhile, Oscar the Grouch decides to try to dig his way to China from his trash can, but when he gets to China, he finds it boring and goes straight home.
The production was released on VHS in 1987, and on VHS and DVD on February 10, 2004. Although the voice of Telly Monster was Brian Muehl, Martin P. Robinson re-dubbed Telly's lines when Big Bird goes right to China. The DVD lacks about a minute of the original production, in which Big Bird is looking for someone who speaks "American," though it can be seen on the VHS version.
See also
Edit