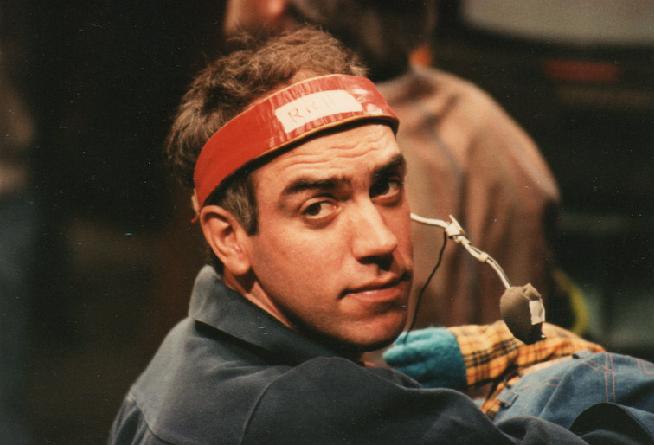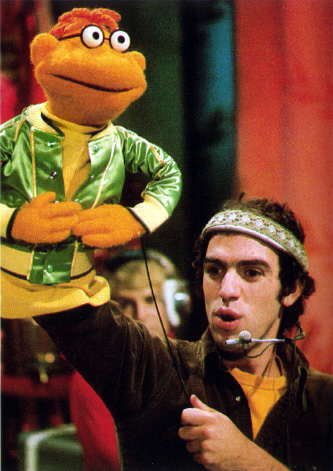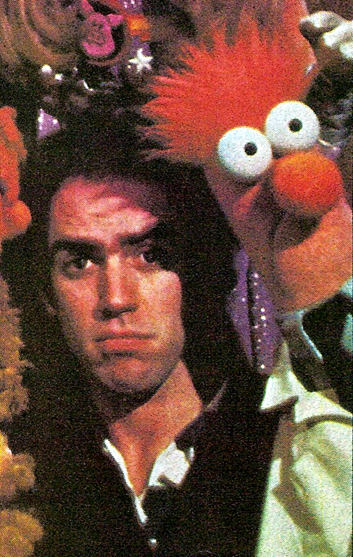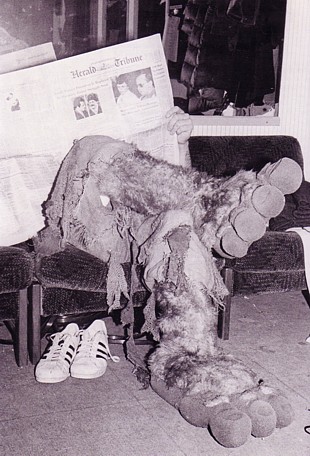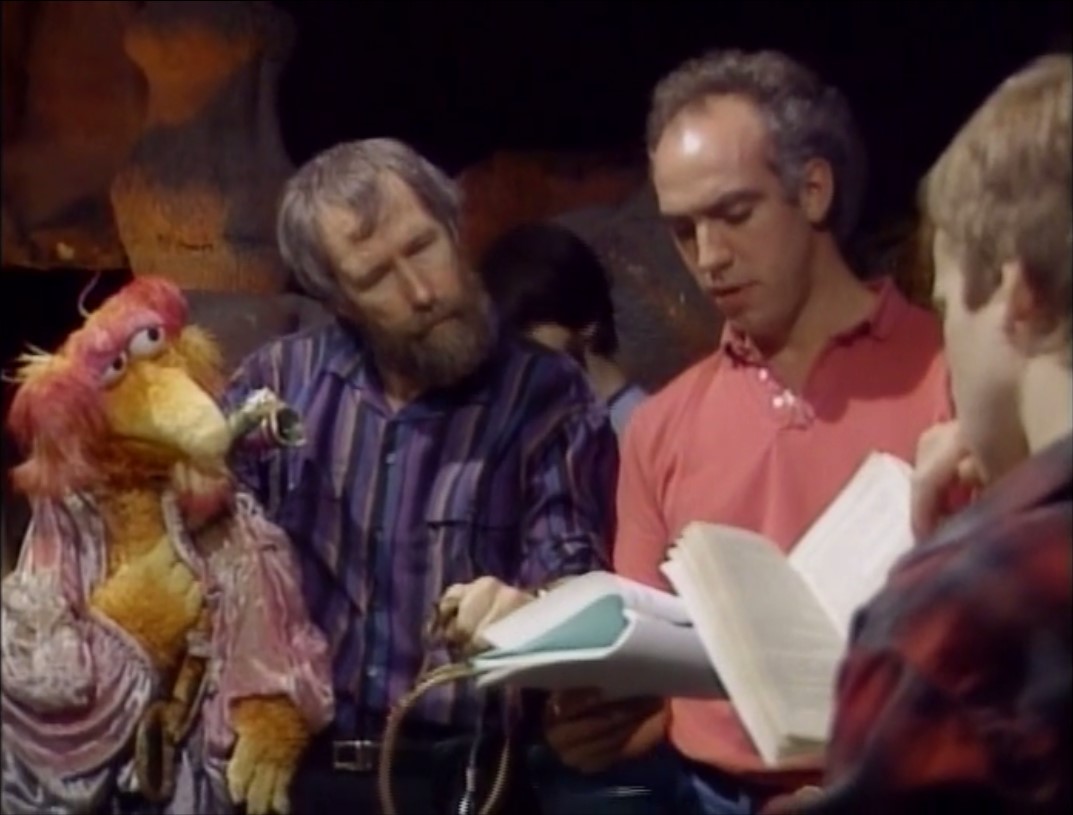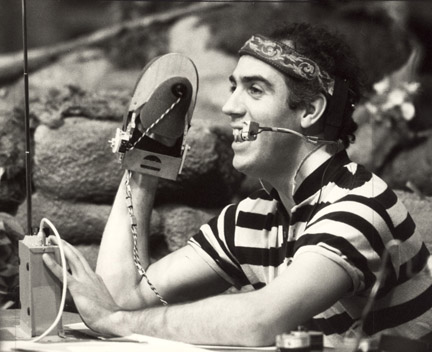 Richard Hunt (August 17, 1951 - January 7, 1992) was a longtime Muppet performer who is known for his many characters, his accomplished singing voice, and his warm backstage personality. Hunt brought many popular characters to life, including Scooter, Beaker, Janice, Statler, Sweetums, Junior Gorg, Don Music and Forgetful Jones.
Richard Hunt and Jerry Nelson
Edit
Richard Hunt's characters were often paired with those of Jerry Nelson. On Sesame Street, Hunt's Sully was the construction worker sidekick to Nelson's Biff. Nelson's Floyd Pepper was often paired with Janice in musical numbers. Floyd also shared lead vocals with Scooter in the "Mr. Bassman" number. Hunt performed Sweetums alongside Nelson's Robin the Frog in the song "Two Lost Souls". Hunt also performed Junior Gorg, the son of Nelson's Pa Gorg.
Additionally, the two performers shared the role of the Two-Headed Monster. They also play the children in the Twiddlebug family with Hunt performing the son, Timmy Twiddlebug, and Nelson performing the daughter, Tina Twiddlebug. Another notable team-up included Hunt's role as Gunge, normally paired with Marjory the Trash Heap (a Nelson character), in addition to Dave Goelz' Philo character. Both performers had characters named after them in the band Little Jerry and the Monotones, with Hunt performing Rockin' Richard alongside Nelson's Little Jerry.
Puppeteer Credits
Edit
The Muppet Show Characters: African Mask (Mountain), Mutt, Beaker(1977-1991), Behemoth (episode 119), Billy the Bear (episode 401 and episode 503), Bobby Benson, Blue Frackle (episode 103, episode 115, episode 202, episode 218, episode 307), Bubba, Catgut, Clive Cahuenga, Contender 980116, Cow (episode 121), Doctor Pig, Droop(episode 220), George, Geri and the Atrics (False Teeth), Ghost, Gingerbread Man, Gladys, The Gogolala Jubilee Jugband (Purple Whatnot), Gorgon Heap (episode 116), Hat, Janice (1977-1991), Lenny the Lizard (episode 208), Lubbock Lou (occasionally), Luncheon Counter Monster (episode 223), Lyle the Dog (episode 523), Male Ghost, The March Hare, Mean Mama (episodes 201, 211, and 515), Mildred Huxtetter (episode 109), Miss Kitty (episode 119), Miss Piggy(1976-1977, occasionally), Ohboy Bird, Paul Revere (legs only), Penguin (episode 320), Quongo (episode 509), Ronald Duck (episode 220), Salzburg Sauerkraut Singer, Scooter (1976-1991), The Showman, Statler (1976-1991), Sweetums (1975-1991), Tiny, Wayne, Winny, Youknow Bird (episode 218), Zelda Rose (episode 308)
Sesame Street Characters: Aristotle, Baby Bobby, The Beetles' Lead Singer, Billy the Grownup, Brad, Bruno, Captain Vegetable (1983-1984), Cheerful, Counting Service Man, Dip, Don Music, Elmo (1984-1985), Farmer Fowler, Fenwick la Touche, Ferlinghetti Donizetti (1980-1984), Flying Fish, Forgetful Jones, Forgettinest Jones, Furline Huskie, Gilbert, Gladys the Cow, Grandpa Count, Grandpa Grouch, Green Alphabeat, Grenadier Guardsman, Harry (The Wonderful World of T-Shirts), Harvey Monster (occasionally), John, Kermit the Forg ("We Are All Monsters"), King Gerry's Doctor, Lavender Frazzletone, Lead singer from "Movin' On", Leaky, Leo the Party Monster, a lettuce from "Grow High Grow Low", Large Lavender Live Hand Librarian, Larry Rhymie, Little Red Riding Hood (1970s), Madame Schwartzhead, Maurice Monster (occasionally), McDougal Monster, Mr. Moses, Mr. Snuffleupagus (back half, occasionally), Old MacDonald(1980s), a pear from "Bilingual Fruit Song", Placido Flamingo, Potter Piper, "Readers of the Open Range" Pumpkincowboy, Rockin' Richard, Rodeo Rosie (occasionally), Sonny Friendly (1986-1992), Spaceship Surprise Mate, Stan, Stuie Monster, Sully, Timmy Twiddlebug, Tommy, Tough Eddie (1980s), Two-Headed Monster, Umeko's Friends, Victor, Willy Nilly, Witch, the Martians, The Young Woman Who Lives in a Hat
Fraggle Rock: Gunge, Junior Gorg, Beige Fraggle, Firechief Fraggle, Flex Doozer, Gillis Fraggle, Herkimer Fraggle, Mean Genie, Mudwell the Mudbunny, The Odd Old Man, Storyteller Fraggle (episode 108 only), Turbo Doozer, Venerable Sage Lambo, Wizard
The Great Santa Claus Switch: Bing
The Ed Sullivan Show: Harrison[11]
The Frog Prince: Taminella Grinderfall (puppetry only)
The Muppets Valentine Show: Giant Mouse
Saturday Night Live: Wisss
One to One: The Queen of Phumph
The Muppet Show: Sex and Violence: Crazy Harry, Hoggie Marsh, Lust, Ohboy Bird
Peter Alexander präsentiert Spezialitäten #10: Bert
Emmet Otter's Jug Band Christmas: Charlie Beaver, George Rabbit, Fred Lizard
Little Muppet Monsters: Tug Monster, Beaker, "Muppet Sports Shorts" Narrator
Follow That Bird: Gladys the Cow, Grouch Diner Patrons, Various
Country Music with the Muppets: Mutt, Sheep
The Tale of the Bunny Picnic: Lugsy
The Christmas Toy: Belmont
Puppetman: Del (on-camera role), Gertha, Earl
Inner Tube: Crasher
A Muppet Family Christmas: The Snowman
The Ghost of Faffner Hall: The Wild Impresario
The Cosby Show: Disagreeable Sandwich
Muppet Sing Alongs: Billy Bunny's Animal Songs: Edgar Bear, Raccoon 1
The Muppet Christmas Carol is dedicated "In loving memory of Jim Henson and Richard Hunt".
The book Jim Henson: The Works and the Sesame Street album We Are All Earthlings, both released in 1993, were dedicated to the memory of Richard Hunt.
Sometimes, Richard Hunt would entertain visitors on the set by performing a character ordinarily played by another puppeteer, assuming the voice and personality of whichever puppet was on-hand
Ad blocker interference detected!
Wikia is a free-to-use site that makes money from advertising. We have a modified experience for viewers using ad blockers

Wikia is not accessible if you've made further modifications. Remove the custom ad blocker rule(s) and the page will load as expected.